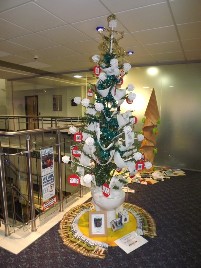 Following our Toilet Twinning theme in One World Week, we decided to use our entry to the Save the Children Christmas Tree exhibition at the airport to continue to encourage people to twin their toilets. It is a scandal that 40% of the world's population having nowhere private to go to the loo, and that women are vulnerable particularly at night when they use open land.
For just £60 you can twin your toilet with one in a developing country. You receive a framed picture of your twin, and the money goes to build another one.
We had fun using toilet brushes, and are grateful to Cu Plas for the loan of the toilet which acts as the tub for the tree.
Perhaps you'd like to give a toilet twin as a Christmas present? The details you need are here