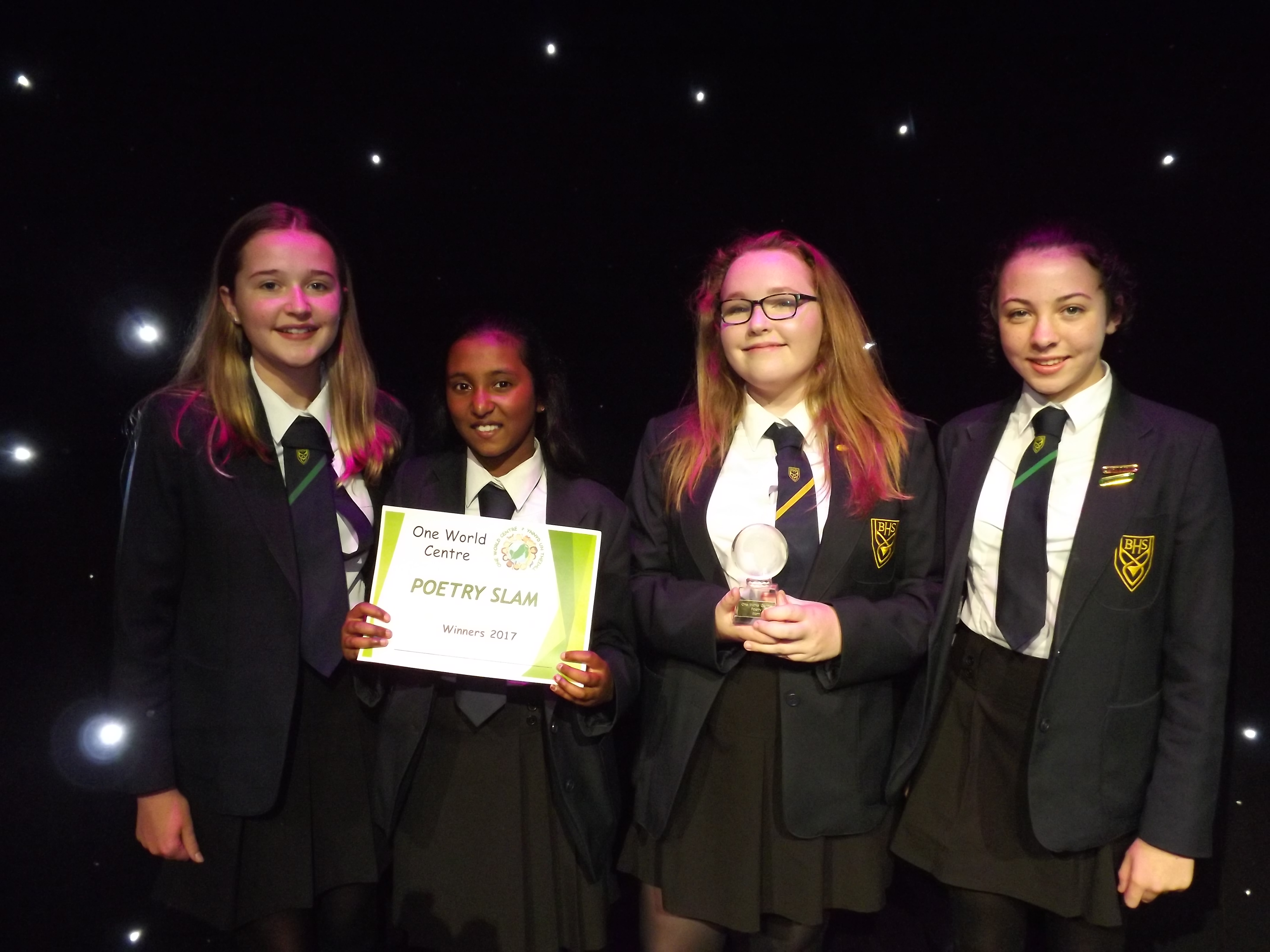 A group of Year 8 students from Ballakermeen High School wowed the judges at the final of the One World Centre's Poetry Slam with their poem Her Story which began by considering History = His Story.  Dylan was unable to make the final, but Graihagh, Francesca, Grace, and Ann Mary did their group proud.  The runners up, from Ramsey Grammar School – Oscar, Cian, Dylan and Owen, titled their poem You don't know.
Sir Richard Gozney, the Lt Governor and Patron of the One World Centre, introduced the evening.  He posed a challenge to adults to recognise the poets who had written three extracts that related to different themes used in the competition.
It was widely acknowledged that the judges (Stacey Astill, Geoff Corkish and Karen Riodan, chaired by Paula Holloway) had a very difficult job.  The 12 groups in the final came from Ballakermeen, Castle Rushen, Queen Elizabeth II and Ramsey Grammar Schools, all of which had had in-school competitions involving many pupils.  As well as learning about poetry and gaining the confidence to perform, students also learned about Modern Day Slavery,  Natural Disasters, Education and Refugees, choosing how to relate these themes in poetry.
The winning team opened the Manx Lit Fest's Poetry Slam the following evening, with Audrey Taggart being invited to perform her poem Oblivious as well.
Congratulations to all involved, and many thanks to Ballakermeen for staging the event, the judges for determining a winner, and Sir Richard for squeezing us in on his way to the airport.
Afterwards we had a lovely accolade from one of the teachers:
The experience was so valuable and worthwhile for the pupils. They got such a lot out of it – from changing their perception of poetry, building their self-confidence and exploring important world issues. It is one of the most worthwhile things I have been involved in as a teacher.