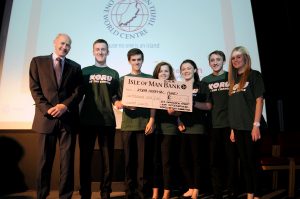 After an intense discussion on Monday night, the judges decided to crown the Ballakermeen team as the winners. Representing the Koru Hospital Fund, the team comprised Rachel Quayle, Emma Novak, Lucy McGinn, Cai Kirkham, Ewan Quayle and George Lillywhite.  Their presentation was lively, with multiple short contributions from the whole team. It included a powerful personal testimony from the charity's founder and was enthusiastically delivered in a good humoured style.
All the presentations were very good and contained a variety of approaches, including a live TV show format, and a very slick video of positive and negative images of India.
As well as receiving the Frances Davidson Cup from the Lieutenant Governor, Adam Wood, Ballakermeen won £2,500 for their charity.  The remainder of the prize fund was divided equally between the runners up, with £1,500 going to each of: Action Saves Kids (Castle Rushen High School), the Pahar Trust (Isle of Man College), Ro-Man-Aid (King William's College), Namaste Children's House (Queen Elizabeth II High School) and the Malawi Mission Project (St Ninian's High School).
Earlier rounds of the competition in each of the schools saw £11,500 divided between 22 further charities working overseas – all either registered on the Isle of Man, or supported by the Manx Government's International Development Committee.
The competition was initiated five years ago with the Hugh and Sandra Davidson Trust.  Their contribution to the prize fund was matched by the International Development Committee.