The sun shone all day and hundreds of people made their way down from the Fairfield to taste Indian, Filipino, German and African food; to browse the stalls of charities working in other countries; to join in activities; and to watch displays of Karate, African and Indian dancing, African singing and the playing of the didgeridoo.  Here are a selection of pictures: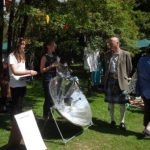 What would the temperature of the water in the black pot be at
15:30?  That was the challenge set.  And the answer? 47 degrees Centigrade – the prize is on its way to the winner.  Funds raised from this, the face painting and the flag competition are going to support Save the Children as they seek to combat the Ebola outbreak in West Africa.
The performances of Indian dance were superb.  There was excellent characterisation by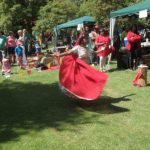 the African dancers and the Africans accompanied the didgeridoo with their drums.  A Karate demonstration took place with students of all ages demonstrating their skills.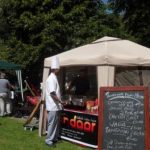 The Tandoor Restaurant abandoned its Douglas base and cooked a range of delicious dishes.  The Filipino BBQ sizzled all day.  Several different types of German sausages were on offer by the Friends of Pestalozzi, who were also promoting their support of a Zambian  student who is studying for his International Baccalaureate in Sussex.
The Pahar Trust, Do!, Capstone International Aid, ADRA, Excellent Development and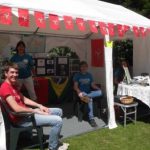 Send A Cow were kept busy all day, explaining the work of their charities.  The United Nations Association and the Black and White Association were literally flying the flag for international understanding.
Our thanks go to the Tynwald Committee and DEFA (Forestry, Amenity and Lands) for enabling us to hold the Global Village in St John's Arboretum.