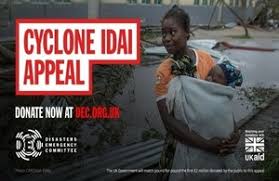 Public donations to the street collection organised by the One World Centre on behalf of the DEC Cyclone Idai appeal raised almost £6,000. Thank you to all those who contributed and to all the volunteers who were able to help out at short notice.
As you may be aware, Mozambique was hit by a further cyclone (Kenneth) whilst still recovering from the impact of Idai. This is the first time in recorded history that there have been two cyclones of such power in one season in Mozambique.
DEC partner charities in the region have been concentrating on providing clean water and sanitary facilities to prevent a major outbreak of cholera. They have also been delivering emergency shelter materials and blankets, food such as pulses and maize flour, and urgent health assistance.
The DEC Cyclone Idai appeal is still live and donations can still be made via the DEC website at www.dec.org.uk or you can make a £5 donation simply by texting DEC to 70000.