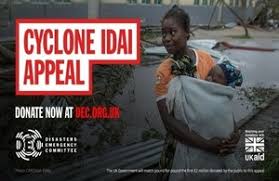 As you will have heard, Cyclone Idai has swept through Mozambique, Malawi and Zimbabwe, leaving behind a trail of destruction, killing hundreds and affecting an estimated 2.6 million people.
The Disasters Emergency Committee (DEC) has now called an emergency appeal to help raise funds for those affected by the cyclone.
As part of the DEC's Rapid Response Network, the One World Centre is organising a street collection in the Isle of Man to allow members of the public to donate to the DEC appeal. This will take place from Friday 29th – Sunday 31st March 2019 and we are looking for volunteers to help with this collection.
Please get in touch by calling 800464 or emailing info@owciom.org if you can spare an hour or two to collect either in Douglas, Ramsey, Peel, Castletown or Port Erin.
We will post updates here and on our Facebook page. For the latest information from the DEC, go to the DEC website here