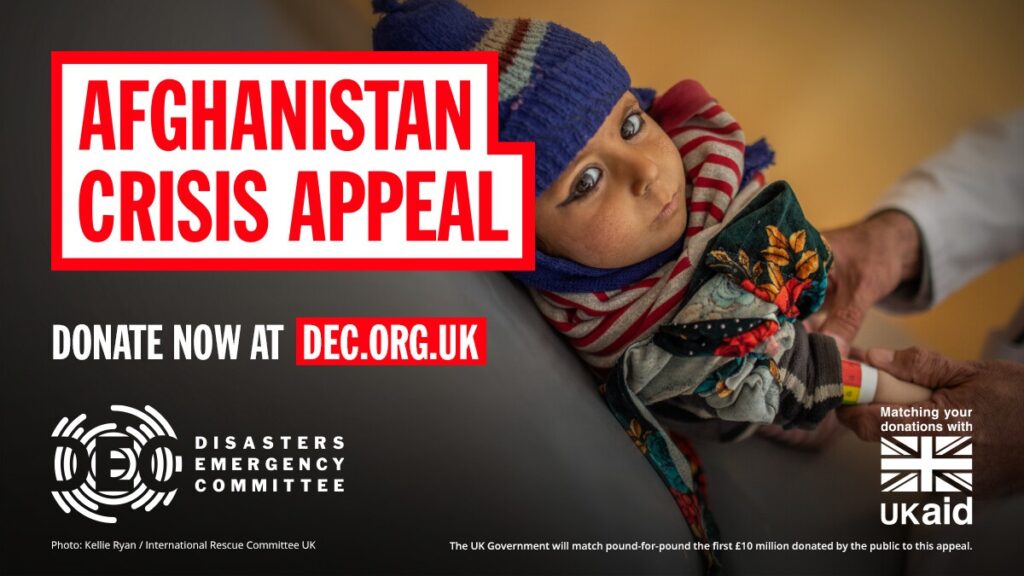 You may have heard that the Disasters Emergency Committee has launched an urgent appeal for Afghanistan where children are already dying of starvation. A million more under the age of five are said to be at risk of dying over the next three months and more than eight million people are on the brink of famine.
Launching the appeal, the DEC said: "Years of conflict, the Covid-19 pandemic, a change of government and the worst drought in 27 years have led to catastrophic hunger. The situation will only get worse as the freezing weather sets in.
"We must act now to save lives. DEC charities are already on the ground providing lifesaving aid, scaling up their operations and reaching those most in need."
Help is needed to:
Deliver emergency food and cash to hungry families
Provide urgent nutrition to young children and mothers
Support healthcare facilities to treat malnutrition
Provide winter kits to help displaced families stay warm
As you will be aware, the One World Centre usually coordinates a street collection for DEC Appeals. This is especially challenging at the moment with the coronavirus pandemic and many people in isolation. We are therefore asking our supporters to share the news of the appeal to their own friends, family and work networks and encourage people to donate online at https://donation.dec.org.uk/afghanistan-crisis-appeal
We will have a bucket for donations at the Christian Aid/Fairtrade pop-up shop at the back of the Promenade Methodist Church this Saturday 18th December (it's well worth popping in to see all the fantastic goodies for sale anyway!) We are also exploring the possibility of a collection outside Tesco so if anyone is able to volunteer for a stint please let us know asap.