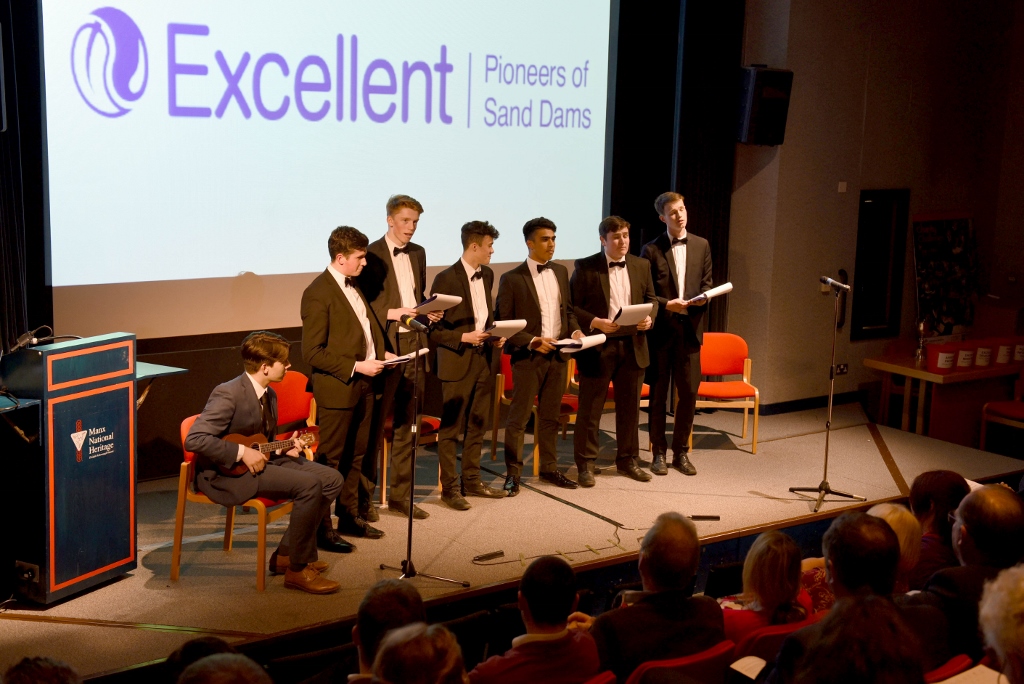 A team from King William's College, representing the charity Excellent Development, has serenaded their way to victory in a closely fought battle at this year's One World Charity Challenge finals.
The team, comprising of Year 12 students Harab Khan, Cameron Wheeler, Conor Taylor, Conor Moroney, Charlie McGowan and Tom Padley, were judged the overall winners for their presentation on Excellent Development's work on sand dams. This included a rendition of a song they had composed during the fundraising stage of the competition which they performed on the night in front of the invited audience including Lieutenant Governor Sir Richard Gozney (Patron of the One World Centre) and Chief Minister Howard Quayle.
As overall winners the team was awarded £1,700 for Excellent Development and they also picked up the audience vote which gave them another £250. Joint runners-up were a team from QE2 High School representing African Promise and a second team from King Williams College representing Drop Inn Ministries. Both these teams also won £1,700 for their charities with the Drop Inn Ministries team also picking up a further £250 for most creative fundraising award.
The three remaining finalists were awarded joint fourth place and £1,200 each for their chosen charities. These were teams from Ballakermeen High School representing Powerful Information, Castle Rushen High School representing Pahar Trust and Ramsey Grammar School representing St George Foundation.
This year marked the 10th anniversary of the Charity Challenge initiative which challenges Manx students to learn about international development issues by researching a small Isle of Man or UK-based charity working overseas.
As well as learning about the wider world, students are required to develop their ICT, presentation, public speaking, time management and teamworking skills to put together a multimedia presentation on their findings. The project is unique in the British Isles and often gives participating students an added talking point in their university or job applications.