Today Rosemary visited Cronk y Berry School and took in a range of artifacts to help the students learn more about Africa.
After seeing pictures of women carrying water, all the children tried balancing their water bottles on their heads in this container.  It was quite heavy!
They really enjoyed playing with a plastic doll from Ghana, and a whole set of wooden animals from Kenya.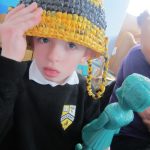 The children worked out that this basket is made from recycled plastic bags – and that it could be used as a hat!
They learned that an object that looked a bit like a feather duster was actually a fly whisk made from hair, probably from a horse. They enjoyed guessing what a leather carrying case could be used for.  They also enjoyed trying on some African shirts.